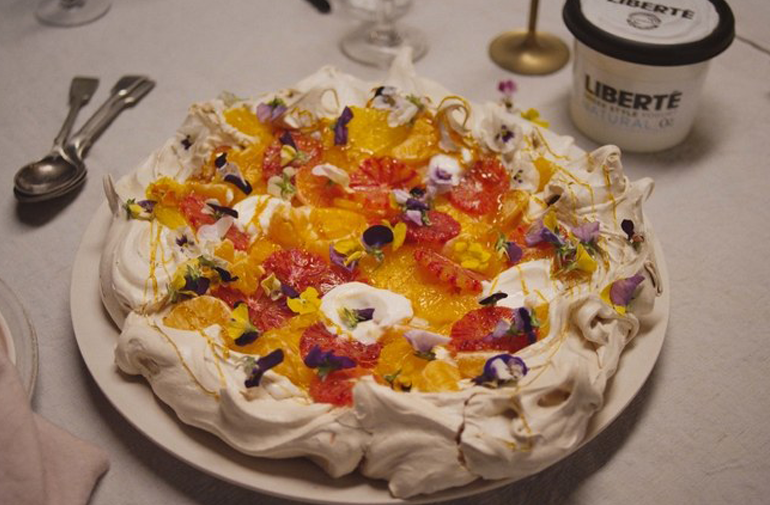 Citrus caramel pavlova with vanilla yoghurt
Citrus caramel pavlova with vanilla yoghurt
Ingredient List
For the meringues;
50g soft light brown sugar

150g golden caster sugar

4 medium organic egg whites
For the whipped yoghurt;
400g of Liberté Greek yoghurt

2 tsp set honey

Seeds from one vanilla pod or a teaspoon of vanilla paste
For the topping;
100g caster sugar

8 mandarins, clementines or blood oranges

The zest of 2 limes

Optional: edible flowers to serve
Preparation
Preheat the oven to 150°C/130°C fan/gas 2 and line a large baking tray with greaseproof paper.
Put the brown sugar into a bowl, break up any lumps, then add the golden caster sugar and mix them together.
Whisk the egg whites until stiff peaks form, this is best done in a stand up mixer or with an electric hand whisk. Gradually add the sugar, tablespoon by tablespoon, while mixing on a high speed until the mixture is thick and glossy. It's ready when you can pinch it and not feel any grains of sugar.
Dot a tiny bit of the meringue mixture on each corner of the tray under the greasproof paper to hold it down. Then spoon the meringue mixture into a large circle 20-25cm circle on a baking tray building the edge up a little higher to hold the filling in. Bake for 1.5–2 hours (depending on how chewy you like your meringues – less time means chewier middles). The meringues are ready when they are set and light to pick up. Put to one side to cool.
Cut the citrus fruits into segments or slices using a serrated knife. Catch any juice in a bowl and reserve.
Whip the Liberté Greek Yoghurt with the honey and vanilla seeds and put it into the fridge to chill for 20 minutes.
When you are ready to serve, pile the meringue with the whipped yoghurt and fruit. Make your caramel at the last minute. Heat the sugar in a heavy based pan over a medium heat. Shake the pan so the sugar levels. Allow the heat to gently melt the sugar and, gently swirling not stirring it, turn the heat up and cook the sugar until it turns a deep golden. Remove from the heat and add a little tangerine zest then drizzle over the meringue and top with the lime zest and edible flowers.