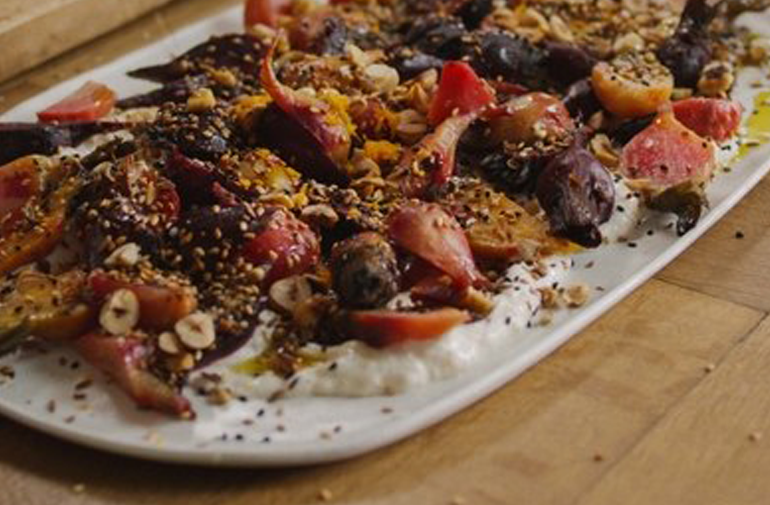 Warm Roast Beetroot
Warm roast beetroot with Dukkah spice and olive oil spiked yoghurt.
30 Minutes Total
Ingredient List
500g raw beetroots

150g of Liberté Greek yoghurt

1 head of garlic

50g of blanched hazelnuts

2 tbsp toasted sesame seeds

1 tsp cumin seeds

1 tsp coriander seeds

1 tsp nigella seeds

2 tbsp extra-virgin olive oil

2 tbsp red-wine vinegar

1 Zest of orange
Preparation
Heat the oven to 180C/160C fan/390F/gas 4. If the beetroots still have their leafy tops, cut them off close to the top of the beet, leaving yourself enough to grip. (If you have beetroots with leaves these can be washed and roasted for the last 5 mins with the beetroots and be tossed through the with spices at the end.)
Wash and scrub the beetroots, wrap in a large foil parcel along with the whole head of garlic making sure it is tightly sealed. Place on a baking tray and into the hot oven. Cook the beetroots until they are soft all the way through – how long this takes will depend on their size: anywhere between 50-80 minutes. Check every 20 minutes or so: if they are starting to look dry or are scorching on the bottoms, dribble a tablespoon of water over them before re-wrapping tightly. The garlic will be cooked after about 40 minutes, so if your beets are taking longer be sure to take them out. The beets are done when a knife slides easily to the centre.
Meanwhile, in a small frying pan, toast the spices until they smell fragrant and put to one side.
Remove the cooked beetroots from the oven and leave to cool a little before peeling. To peel, hold one in a paper towel and use the edges of the paper to rub the skin away. This should happen easily; if it doesn't, the beets likely need to cook for a little longer. When you have peeled them all, cut into chunks and slices.
Toss the beets with half of the spices, 1 tablespoon of oil, vinegar and orange zest, with more salt and pepper if needed.
In a bowl, squeeze the roasted middles out of the garlic cloves and roughly mash with a fork, stir in the Liberté Greek Yoghurt and the rest of the olive oil together with some salt, pepper and orange zest.
Serve the warm beetroot on top of the cold yoghurt with the bright purple juice from the beetroots and the remaining spices spooned over the top.